Bluebird Concept Yacht
55 m / 180′
Designed for extended voyages, concept yacht Bluebird provides a completely private two-storey apartment, in addition to abundant space for guests elsewhere. Whoever steps aboard will find the yacht's large open decks, spacious suites and generous tender storage ideal for exploring the world in comfort.




Beautifully balanced
The Bluebird's elegant, timeless profile consists of some beautifully balanced lines and large windows. Her superstructure is positioned relatively far forward to enhance the explorer look, while allowing for giant aft decks. A finely flared bow will add to the seagoing performance, dampening slamming motions and substantially enhancing overall comfort.
The blue colour was chosen because of the elegant separation it offers between superstructure and hull, extending the length visually and – in combination with the black mast – giving the vessel an elegant lower look in the water. Of course, clients can choose a different colour scheme should they wish, and could also choose to change the length of the design to anywhere between 50 and 60 metres depending on their requirements.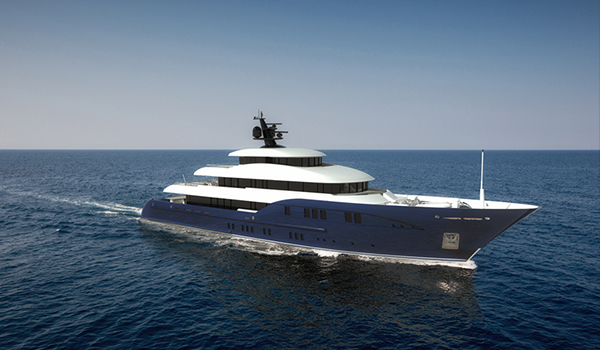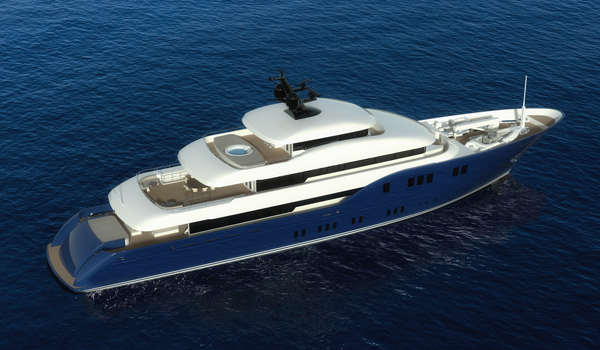 Explorer pedigree
While the Bluebird may not look like a traditional explorer vessel, Diana Yacht Design has a rich pedigree when it comes to world travellers. The office has been involved in the design and naval architecture of around 70 members of the current global superyacht fleet, including the 50-metre Hadia, which has made three circumnavigations, and Triple 8, which successfully completed a two-year globetrotting expedition.
The team at Diana fully understand the serious requirements in terms of seaworthiness, reliability, redundancy and comfort for such yachts, and these are thoroughly reflected in the Bluebird concept – very much a ship in this respect as well as a beautiful motoryacht.
All in all, the Bluebird is an innovative new concept yacht offering a great deal of flexibility for a wide range of people and uses. Designed based on extensive market research and broker feedback, she occupies the ideal middle ground between a luxurious superyacht and an ultra-reliable expedition vessel.